Stansted Arrivals: Everything You Need to Know in 18 Points
Stansted Airport is an international hub of travel, receiving flights from all over the world. The International Arrivals Area is the ideal place to meet people from Stansted  arrivals, and Café Modena and Costa Coffee are suitable alternatives for those who have a bit of time to kill before traveling onwards.
1.  How to Check Your Flight Details
There are a few different ways to check your flight details.  In order to do this you will need your flight code to hand – this usually consists of some numbers and letters, such as FR014.  You should have been provided with this when you booked your tickets, and most customers also find their flight number in the email confirmation.
You can check the Stansted airport flight timetable/schedule online.  All you need to do is enter your departure airport or flight code, and you will be provided with up to the minute flight information.  Friends and family members can also check the Stansted  arrivals board.
If you have are a passenger about to take a long flight to Stansted Airport, it's important to be prepared and also check your flight details before you depart.  This will help ensure that you arrive at the airport with enough time before your flight, and will also keep you updated on any delays or cancellations.  Make sure to print out any travel documents that you need, or ensure you have access to them via a mobile device.  Stansted  arrivals information can be viewed on any mobile device.
If you are visiting Stansted to collect a friend or family member, you will want to keep up to date with the status of their flight so that you can ensure that you arrive with enough time to collect them from the airport.
Luckily, it is very easy to check the Stansted airport flight timetable/schedule online.  You can do this on the Stansted Airport website, but you can also make use of websites like Flight Radar.  Flight Radar provides a flight tracker so you can see in real time where your friend or family member's flight is and when they are expected to land.  This website is also ideal as it enables you to check flight status without having a flight code. The Stansted Airport flight timetable, while useful, can be more difficult to navigate without having the flight code to hand.
Depending on who your loved one is travelling with, you may also be able to receive email or text alerts direct to your phone, informing you of the flight's status.
While it is very easy to get flight information within the airport itself, many people prefer to check flights from the comfort of their home or hotel room, instead of waiting around, especially if a flight has faced delays on departure.
3. How to Check the Status of Your Connecting Flight
Many people land at Stansted Airport as part of a connecting flight.  Again, it is a good idea to check up on the status of your connecting flight as soon as you land so that you can see if there are any delays or cancellations.  It is a good idea to install the Flight Radar app on your phone as this will give you real time information on your flight and Stansted Airport live updates on all the planes arriving and departing.
Some mobile phone networks provide 3G and 4G services in and around London, but if not, you can connect to the Stansted Airport Wi-Fi upon entering the arrivals terminals.  With this information at hand, you can determine the length of your wait before your next flight, and come up with a plan of things to do during this time.  Stanstead Airport has lots of things to keep you occupied, and plenty of restaurants where you can catch a bite to eat.  You may also be able to spend some time in London if your layover is particularly long.
4. How to Get to Stansted airport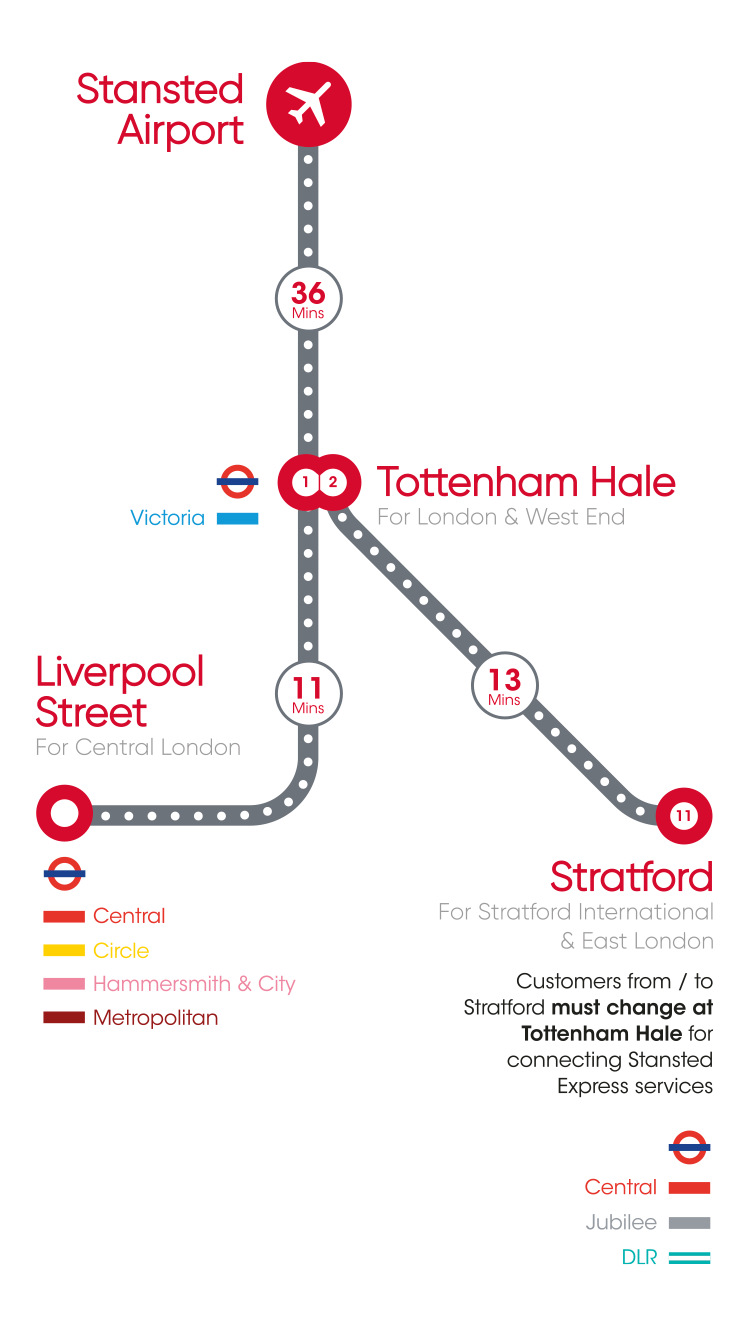 Stansted Express
The Stansted Express offers the quickest route to the airport, with trains taking 45 minutes from Central London.  Stansted Express tickets start at £7 if purchased in advance and trains depart every 15 minutes.
You can board the Stansted Express at Liverpool Street, Tottenham Hale, or Stratford (with a change at Tottenham Hale) and the Stansted Express Timetable can be found online.
Group tickets and season tickets are both available, and rail cards are also accepted.  It's also worth looking into travel and Oyster Cars for when you get to London.
Other direct public transport services
A number of bus and coach services offer direct Stansted Airport transport including National Express and Airport Bus Express.  Times, departure locations, and prices can be found on the Stansted Airport website.
Cross Country trains also go direct to Stansted Airport Train Station from Audley End, Cambridge, Birmingham, Leicester, Peterborough and Ely.  Connections are available to the Scotland and the North of England.  Prices and timetables for these vary so it is best to check the National Rail website for live National Rail arrivals, journey advice and tickets.
Driving to & from Stansted airport
Stansted Airport is located just off the M11 motorway.  To reach it, you'll need to take junction 8 if travelling from Cambridge, and junction 8a if travelling from London.  There are numerous parking options available to suit all budgets. Another option is to stay at an airport hotel with parking if you wish.  If travelling by motorcycle, it is wise to book in advance to receive 50% off the cost.  Full information can be found here.  The Stansted airport postcode is CM24 1RW.
5. Finding Terminals at Stansted airport
The Stansted Airport map is relatively small as it has just one terminal which has satellite buildings connected containing the gates.
Satellite 1
Satellite 1 services all airlines except Ryanair. It is located the furthest away from the main terminal.
Satellite 2
Use satellite 2 for domestic flights and low cost airlines. It is the closest satellite to the main terminal.
Satellite 3
All of the Stansted Airport gates at Satellite 3 are exclusive to Ryanair. This satellite does not have jet bridges.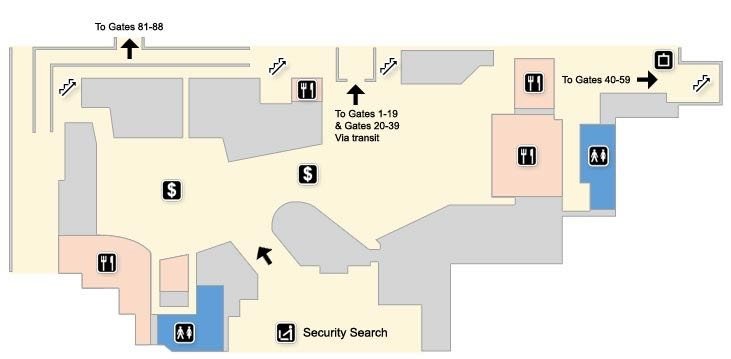 6. How to Travel between Terminals at Stansted airport
Track Transit System
The Track Transit System serves the main terminal and Satellites 1 and 2.  Satellite 3 (purely for Ryanair flights) does not require transportation.  The Stansted Airport train runs every three minutes during the airport's opening hours and it is free to use.  It is also wheelchair accessible.
Walking between buildings
It is also possible to walk between the buildings at Stansted Airport.  Walking distances vary, with the furthest being from check-in to satellite 3 which is 530 metres.  Full distances and a Stansted Airport layout can be found on the Stansted Airport website.
http://www.stanstedairport.com/at-the-airport/guides-to-travelling/special-assistance/walking-distances/
To make travelling easier, it is a good idea to make sure your suitcase has wheels on it.  However, it is also possible to pick up a luggage trolley, which can be found in the carparks, the rail and coach stations, and the main terminal.  These cost £1 which is fully refunded once the trolley is returned.
7. Taxi Services to Stansted airport
Taxis to Stansted airport
If you want to book a Stansted airport taxi, you have lots of options available to you.  Some of the main companies to consider are Airport Pickups London, myDriver Airport Transfers, Unicorn Transfer Ltd, and Blackberry Cars. All of these offer transfers to the main terminal from the centre of London and further afield.
If you don't want your Stansted taxi company to provide a car, you can also look into hiring a Minicab to Stansted or even a limo.  Many standard taxi firms offer these vehicles, or you could also hire one that specializes in it.
Taxis Instead of Transfers
24 7 Taxi Stansted is the main taxi company that operates at Stansted Airport, Taxi's are ideal for people who don't want to take a transfer.  You can book a cab at the taxi desk within the main terminal as well as in advance by phone.  The firm operates 24 hours a day, 7 days a week, even during peak demand.  In addition to offering a range of vehicles, 24 7 Taxi also provides chauffeur and executive hire, and can also provide wheelchair accessible taxis on demand.
You can obtain a Stansted Airport taxi quote by phoning them on 01279 661111.
8. Hotel Transfers at Stansted airport
Coach Transfers
Coach services are ideal for large groups and school trips. They offer services from most of the main London hotel districts. The two main coach services that offer transfers to Stansted Airport are National Express and City Link.  National Express Stansted Airport services travel to locations all over London, including Paddington, Waterloo, Victoria Rail Station, Liverpool Street and Stratford, with prices starting at £7.  A full map can be found on the National Express website.  Airport Bus Express offer transfers from Stratford, Baker Street, London Victoria and Liverpool Street, with prices starting at just £8.
Uber
Finally, for those who want to be picked up directly outside of their hotel, Uber is an excellent choice.  You simply need to download the app to your phone, fill in your details, and then request an Uber Stansted Airport cab.  There are five different car models you can choose from, depending on your budget and your travelling requirements.  For the cheapest car model, the UberX, you would be looking at around £70 from Baker Street to London Stansted.  For the Uber Lux, you would expect to pay at least £210 depending on the traffic.  There are three Uber Stansted Airport waiting areas, which are located at the Stansted Mid Stay Carpark, the Stansted McDonald's, and Birchinger Green Service Station.
9. Where to stay at Stansted airport
Stansted airport hotels
Stansted Airport is home to most of the major hotel chains in the UK, so you are sure to find something that meets your budget.  To give you an idea of what to expect, the Radisson Blu Stansted Airport hotel is a short walk from check-in, also provides parking and costs approximately £124 a night including parking.
For a full list of Stansted Airport hotels and parking rates, visit this website.
Hotels in Stansted
If you would prefer to stay in Stansted as opposed to at the airport? You're in luck as there are a lot of hotels near Stansted Airport that offer quick transfers. The Novotel has quick and free airport transfers, parking, and costs approximately £79 for a midweek stay, while the Premier Inn is located around 15 minutes away from the airport and prices start from £57.  Other hotels located in Stansted include Ramada, Holiday Inn, Travelodge and De Sallis.
Apartments
If you are planning on staying in Stansted for longer than one night, an apartment may be more suitable. The advantage is that it gives you more space, and also works out cheaper if staying with a group.  Airbnb is a great site to use for apartments. There are plenty of Airbnb Stansted options as well as in the surrounding areas.  Weekend apartments in Stansted can also be found on hotel booking sites, and these are ideal for people who are either travelling on business or want to spend a long layover in the area.
10. Where to Park at Stansted airport
General Parking
Airport parking can be stressful for the best of us, however it doesn't have to be.  There are a range of car parking Stansted Airport options to suit all budgets.  Meet and Greet Parking is perhaps the most convenient as you can just hand your keys to a member of staff and let them park for you.  You'll also be located within a 3 minute walk to check-in.  If you'd rather park yourself, there are a variety of short stay, mid stay, long stay, and jetpark stay (cheap) parking options.  Discount vouchers are also available enabling you to get your parking for as little as £5 a day.  Visit the Stansted Airport website for information on all of the above.
Motorcycle parking
Stansted Airport motorcycle parking is available in all the same locations as car parking.  Discounts of up to 50% are available when booked in advance. Motorcyclists can also take advantage of the Meet and Greet and valet services.
Disabled parking
Stansted Airport mobility spots are available for disabled drivers in the short stay, mid stay and long stay carparks.  There are spots available close to the main terminal in the orange and green short stay car park. Also there are disability friendly shuttles from the other car parks.  Please note that the Blue Badge scheme is not in operation on the road system at Stansted Airport for security reasons.
Valet parking
If you book the meet and greet service, it may be worth going one step further by purchasing Stansted Airport valet parking.  From just £19.99, you could have your car professionally cleaned while you are away.  This is very convenient, especially for those who are travelling for business.
Pickup areas
Those picking up family members from Stansted Airport have a number of options.  There is a free pick up facility located in the mid stay carpark. There are shuttles available every 5 minutes to the main terminal.  Daily rates apply for those who overstay the 1 hour limit.  Alternatively, you can choose to park in the short stay carpark which is within short walking distance of the main terminal.  Stansted Airport North pick up also includes an express service where you can drive your loved ones to the terminal.  The price is £3.50 for the first 10 minutes, and £1 per minute thereafter.  Vehicles that are left are at risk of being towed. Those getting dropped off by Uber will be dropped at the mid stay carpark.
11. Disabled Access
Travelling to and from Stansted airport
As a disabled passenger, it can be quite stressful to use public transport. However, Stansted Airport has many options that are disability friendly.  The coaches and buses from central London to the main terminal, and the Stansted Express are all suitable for disabled passengers.  The shuttles from the carparks to the terminal are also disability friendly.  Those who are unable to get from a hotel to a pickup point may want to consider a wheelchair taxi, however.
On flight assistance is available for disabled passengers, and help is also available in the main terminal and the satellites.  Those who have specific needs while flying may need to contact the airline direct or check their website before booking seats.
Assistance in the Airport
Stansted Airport takes care of all passengers with disabilities. From those who need help walking to those on the autism spectrum.  However, it is vital that you notify your travel airline, tour operator or travel agent.  You need to confirm this at the time of booking that you may be in need of Stansted Airport assistance.  Stansted Airport mobility aids are available, though those wishing to travel with their own wheelchairs will need to inform their airlines in advance.
In the main terminal buildings guide and hearing dogs are allowed, and the airport signs have been created with disabilities in mind.  Accessible toilets are available in the departure lounges and the main concourse. You can obtaine special assistance at the airport between check in zones D and E.
Disabled facilities
Disabled toilets are available in the departure lounges and the main concourse.  The airport terminal, and the bus and rail stations all have step free access via disabled elevators and ramps.  A full guide to the airport's disability icons can be found here.
12. Medical Help at Stansted airport
If you require medical help at Stansted Airport, you can phone the information desk by using one of the courtesy phones located throughout the terminal.  There is no designated first aid room at the airport. There is a Stansted travel clinic located in the Airport Business Park.  This is, however, predominantly used by pilots and cabin crew.
13. Security
As you would expect from an airport the size of Stansted, security is a key concern. The airport has staff and processes in place to ensure all passengers stay safe.
All passengers must pass through Stanstead Airport security before they are allowed to board their plane.  Here, all cabin luggage will be checked so make sure that you are only carrying what you can legally take on the plane.  Customers can take advantage of the FastTrack service if they wish to speed this up.
Upon arriving at Stansted, all passengers will have to go through Stansted Airport passport control, while members of the EU can use the convenient e-readers to make this process faster.
As you would expect from an airport the size of Stansted, security is a key concern and the airport has staff and processes in place to ensure all passengers stay safe.
All passengers must pass through Stanstead Airport security before they are allowed to board their plane.  Here, all cabin luggage will be checked so make sure that you are only carrying what you can legally take on the plane.  Customers can take advantage of the FastTrack service if they wish to speed this up.
Upon arriving at Stansted, all passengers will have to go through Stansted Airport passport control. Members of the EU can use the convenient e-readers to make this process faster.

14. Other Facilities Available
Stanstead Airport has all of the facilities you would expect, including:
Internet access – 4 hours free access is provided per day, with 24 hour access costing £9. You simply need to log onto the Stansted Airport Wi-Fi and enter your details to gain access.
Prayer room – There are two prayer rooms Stanstead Airport. One is located in the main terminal building and the other is located in the main departure area. Ritual washing facilities are available in both.
Currency exchange –You can find Stanstead Airport currency exchange in the main terminal.
The Moneycorp exchange rate is competitive and you won't have any commission to pay if you book in advance.
Luggage Storage – The Stansted Airport Luggage Storage is located in zone A. Prices vary depending on the size of the bag, though they start at £8 per day/£48 per week. You can store Bikes, prams and golf clubs.
Family Facilities – Stansted Airport offers family friendly lounges and baby changing areas in the arrival and departure lounges.
15. Where to Eat
Restaurants in Stansted airport
There is no shortage of places to eat at Stanstead Airport.  Everything from Burger King to itsu and Weatherspoons is available.  The most popular Stansted Airport restaurants are located within the main terminal and include Burger King and Giraffe and Leon.  For a Grab & Go snack in the terminal, you can choose from Itsu, James Martin Kitchen, Joe & The Juice, and Pret A Manger.  And, for those who just fancy a coffee, Starbucks and Harris & Hoole are your options.
Restaurants in the Area
If you have some time to kill outside of the airport, you'll probably be looking for the best place to eat in Stansted.  Some of the best restaurants near Stansted Airport include the Rose and Crown, which is a nice little pub selling homecooked English meals, and the Lower Street Brasserie which sells a selection of French and European delights.
16. Things to Do at Stansted airport
Shopping at Stansted airport
Stanstead Airport is home to all of the shops you would expect to see, including your main high street stores like Boots, Next, Dixons and WH Smith.  The Stansted Airport Duty Free section is plentiful and you can buy everything from wines and spirits. It is also possible to buy tobacco, and perfume.  For those who enjoy a true airport shopping experience, make sure to check out the Ted Bakers, Hamleys, Swarovski and Hugo Boss stores.
Travelling with kids
Stansted Airport is well equipped for children, and there is a family friendly lounge designed specifically for them.  All devices will receive four hours of free Wi-Fi. Children can spend the time before the flight catching up on some entertainment.  The family friendly restaurants in the terminal are ideal for children of all ages. There are also baby changing units located in the main terminal and departure lounges.
Layover tours
If you have a layover at the airport, you may wish to leave and explore some of the surrounding area.  It's a good idea to work out your timings before you arrive, and then book a seat on the Gatwick Express to get into central London.  Here you can take one of many public or private tours, or even visit an attraction.  It's a good idea to buy fast-track tickets so that you won't be waiting in queues for too long.  Or, you could see if there is anything you want to do near Stanstead Airport.
17. Why You Should Check the Weather
Before heading to pick someone up for a flight it is a good idea to check the Stanstead weather.  During the winter months, the weather can cause Stanstead airport delays. Some planes are unable to land until the weather clears.  Likewise, during the summer months, the heat can cause delays.
You can keep an eye on the Stansted Airport website for information regarding weather delays. You can also use a flight tracker to see if any flights are expected to be delayed or cancelled.
The weather can also lead to traffic problems, so do make sure to consider this when planning your journey time.
18. Information Services at Stansted airport
The Stansted Airport information desk is located within the arrivals terminal.  It is open 24 hours a day and can help with flight information and general queries.  You can also print flight documents and use the photocopier there for a charge. The Stansted Airport customer service desk is located in the departure lounge, after security.
For those who need to contact the airport, the Stansted Airport contact number is 0844 335 1803.  Calls cost 7p/minute.
You can find Help points in the terminal, the main car parks, and outside the airport doors.