Glasgow Arrivals: Everything You Need to Know in 18 Points
Glasgow Airport is the second busiest airport in Scotland, handling almost 10 million people every year.  Here we hope to give you plenty of information about Glasgow arrivals, so that if you are arriving at the airport as a passenger or picking up family and friends, you are aware of what to do.
1. How to Check Your Flight Details
When you first book your flight, you will be provided with a flight number.  This is usually some letters, which represent the airline, such as BA, followed by some numbers, which represent the route, i.e. 196.  With this number, you can check up on the status of your flight.  If you are unsure of what your flight number is, it is worth checking your email confirmation, or boarding pass if you have already checked in.
Checking your flight information before you travel is important, especially if you have a long journey ahead of you, or connecting flights, as it will help you to determine if your flights are running on time, and when you can expect to land.  The Glasgow Airport flight timetable/schedule, and further Glasgow Airport arrivals information can be found on the Glasgow Airport website.  You can track flights on a flight tracking website or app, such as Flight Radar.
You may also want to provide your flight number to whoever is picking you up from Glasgow Airport arrivals.  They will then be able to check your flight online, and won't have to face waits at the airport itself.


2. How to Check the Incoming Flight Status
If you are visiting Glasgow Airport to pick up a passenger, you probably don't want to hang around waiting for a delayed flight.  To combat this problem, it's a good idea to take a look at the Glasgow arrivals Airport flight timetable, and check a flight's status before it lands.  If you know the flight number of the passenger you are picking up, you can enter this into the Glasgow Airport flight tracker. This website roughly predicts the progress of a flight and can give you an idea as to whether it will land on time or not.
However, even if you don't know the number, you can still track the progress of a flight.  One of the best places to do this is on the Flight Radar website.  To use this website, all you need to know is where the plane departed from and where it is scheduled to land.  You can even download the free mobile app if you want to check the status of a flight while on the go.
By tracking the status of a flight, you can minimise the amount of time that you'll need to spend waiting at Glasgow Airport.  This will not only save you time, but it will save you money on car parking fees as well.
3. How to Check the Status of Your Connecting Flight
If you have a layover at Glasgow Airport and need to check the status of a connecting flight, you can follow the same advice that we described above.
If you have a flight number, you can check the status of your flight either on the Glasgow Airport website, or on the departure boards at the airport.  Alternatively, if you are not sure of your flight number, you can use the Flight Radar website or app to find your flight number and track its departure time.
The Flight Radar 24 app is especially useful for layover passengers, as no-one really wants to have to find a computer area when they have a short layover.  You can install the app for free before you travel, and also work out how much time you have between flights.  Once you have this information at hand, you can plan activities either within the airport, or in Glasgow itself.  It's the easiest way to get Glasgow arrivals live updates when on the go.
4. How to Get to Glasgow airport
Glasgow Shuttle bus service 500
The Glasgow Airport shuttle connects the city centre and the airport.  Buses depart every 10 minutes with stops at St Vincent Street, George Square and Buchanan Bus Station.  The 500 Glasgow Shuttle also offers free Wi-Fi, charging points and luggage storage.  An adult ticket cost £8 while a child costs £4 one-way.
Other direct public transport services
The First Glasgow Express provides train services
between Glasgow Queen Street and Glasgow Airport Train Station.  Tickets can be purchased from the station or on the ScotRail website.  This is perhaps the most convenient option for those looking for Glasgow airport transport from outside of the city due to the convenient connections with National Rail arrivals.
Stagecoach also offer a bus to Glasgow Airport.  You can travel from Glasgow City Centre, Fort William/Loch Lomond and Paisley Gilmour Street direct to the airport.  A return ticket costs £18 with child fares costing just £1.
Driving to & from Glasgow airport
Driving to Glasgow Airport couldn't be easier with the M8 going directly past it.  Motorists simply need to exit the motorway at either junction 28 or 29 (depending on which way you are travelling).  If you are using a SatNav, the Glasgow Airport postcode is PA32SW.
Car Parks 1 and 2 are located close to the main terminal, but are only for short stay parking.  Those who need long stay parking will need to head to the specified Long Stay Car Park and take a shuttle bus to the airport which takes around 5 minutes.  Signs will direct you upon arrival.
5. Finding Terminals at Glasgow airport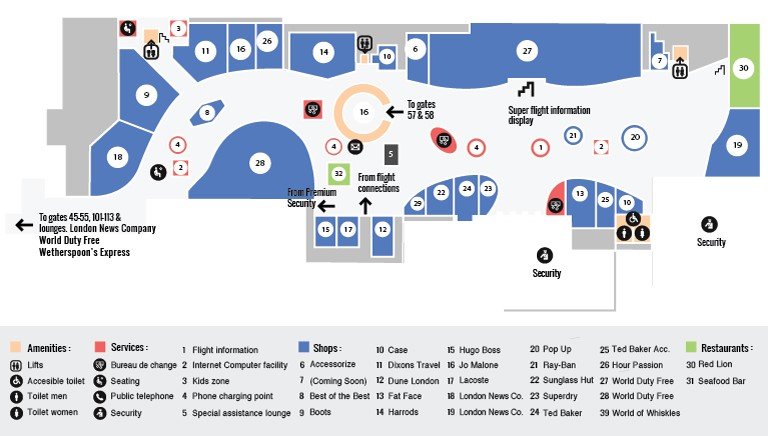 Terminal 1
The three departure piers, East, West, and Central are all connected to the main Terminal, Terminal 1. The Western pier serves international traffic, the central pier serves domestic traffic, and finally the Eastern pier serves the low-cost and budget airlines that fly from the airport.
Terminal 2
Terminal 2 was opened in 2004 in an effort to streamline services by providing additional passenger checking in facilities and baggage handling capacity. A short, covered walkway connects Terminal 2 with Terminal 1 and it is from within Terminal 1 that the departure piers are accessed.
To the right, you can find a Glasgow Airport Map which details the Glasgow Airport gates in each terminal.
6. How to Travel between Terminals at Glasgow airport
Walking Between Terminals
Because Glasgow Airport is relatively small there are no shuttle bus or rail services. Instead, passengers simply walk between the two terminals which are connected by a covered walkway. The piers are all connected to Terminal 1 and so if you want to get there from Glasgow Airport Terminal 2 then first head to Terminal 1.
Disabled Access
Glasgow Airport offers widespread disabled access and a number of options for aiding with mobility. Disabled lifts allow for easy movement between floors.  A travel wheelchair is available for those who have difficulty walking and staff have access to other mobility equipment, such as buggies, which they can drive passengers in.
7. Taxi Services to Glasgow airport
There are a number of different taxi and cab companies that offer services in and around Glasgow Airport. It wasn't long ago that trying to find a cab without a prior booking was nigh on impossible, but thankfully that is no longer that case. There are now a number of companies who offer vehicles ranging in size from smaller Sedan cars which only seat three or four, all the way up to minibuses which are designed for large parties and seat 12-16.  You could also take a minicab to Glasgow but these need to be booked as far in advance as possible.
Taxi Instead of a Transfer
Taxis offer an excellent way to travel between the airport and your hotel and any nearby attractions. Taxis are often quicker for these purposes than other methods of transportation. Whereas a bus runs to a timetable, there are plenty of 24/7 taxi Glasgow companies. To get a Glasgow Airport taxi quote you should consult with the help desk or phone the airport.
8. Hotel Transfers at Glasgow airport
Glasgow Airport Express
The Glasgow Airport Express is the fastest and most direct route between Glasgow Airport and the city centre. This bus charges £8 for a one way ticket and £12 for a day return. Alternatively, family tickets cost £16 to purchase. The service picks up and drops off from St Vincent Street, George Square, Buchanan Bus Station and of course the airport.
Coach Transfers
The National Express Glasgow Airport is one of the most popular ways of shuttling between parts of the airport and surrounding area. There are a number of other bus companies who also serve the airport, including FMcGill's 757 which departs from Paisley Gilmour Street Train Station.
Uber
Uber is a controversial ride hailing app that lets its users hail for a cab and then dispatches the nearest driver to their location. You can use Uber to save quite a bit of money on your journey from the airport to the city centre. If you decide to use an Uber Glasgow Airport offers a waiting area The Uber Glasgow Airport waiting area is shared with the general waiting area outside the terminal.
9. Where to stay at Glasgow airport
Glasgow airport hotels
There are a number of different hotels to choose from in the airport itself depending on your individual requirements. For those who are only looking for a bed and a roof over their head, the Holiday Inn and Premier Inn offer the most reasonably priced options. The Premier inn is nice and close to the airport itself which will save time. Glasgow Airport hotels special offers often include the Premier Inn.
If you're looking for Glasgow Airport hotels with parking, then again the Premier Inn is a fine choice. The Glasgow Airport Travelodge also offers long stay parking as part of the package.
Hotels in Glasgow
Glasgow is home to a number of great hotels for those who would like to stay a little further away from the airport. Ardgowan House is a charming four-star guest house that is a little over a mile from the airport. It is close enough to be within walking distance, yet far enough away that guests will feel they are in Glasgow proper. One of the most highly rated hotels near Glasgow Airport is the Golden Jubilee Conference Hotel. Situated on the banks of the river Clyde, this hotel is in a beautiful location, offering a taste of real Scotland alongside the modern trappings of free, high speed internet.
Apartments
For those who will be laying over in Glasgow for some time, or perhaps just visiting for an extended period, an apartment rental might be the best option. An apartment will feel much more homely than a hotel. Weekend apartments in Glasgow can be rented for a relatively modest sum.
10. Glasgow arrivals: Where to park?
General Parking
When it comes to car parking Glasgow Airport offers plenty of option. There are both long stay and short stay car parks, depending on how long you plan to leave your vehicle in the airport. Passengers can pre-book their parking space and stay for as long as they like, within reason. For those who require assistance as soon as they arrive, there is meet and greet parking. There is also the option to pay extra for fast track parking which grants the visitor access to the priority security lane.
Motorcycle parking
Glasgow Airport motorcycle parking is free of charge, as with most other airports. If you are leaving a motorbike in the airport while you go on holiday you need to be careful and take the necessary precautions to avoid your bike being damaged or stolen.
Disabled parking
Blue badge parking spaces are available in both car parks. Blue badge holders may park anywhere for free for 30 minutes by presenting their badge at the kiosk in any of the car parks. If you require mobility assistance getting from your car to the terminal, then you should phone ahead and arrange for meet and greet parking. Glasgow Airport mobility services are designed to make it possible for any visitor to be able to park and access the airport with the greatest of ease.
Valet parking
Glasgow Airport valet parking is the most convenient way of parking your car and is perfect for visitors who are in a rush. To take advantage of this, simply call at least 20 minutes before you arrive on 07554 431 765 and a driver will meet you at the terminal. They will take your car for parking and give you a ticket while you are free to carry on into the airport.
Pickup areas
The Glasgow Airport pick up area can be found on the ground floor of car park 2. There are marked blue badge bays here for those who require them.
11. Disabled Access
Travelling to and from Glasgow airport
Public transport providers will all have different provisions for assisting disabled passengers. While all public transport providers have a legal duty to make their services accessible to wheelchair users, some will require advance warning so that they can have access ramps and other measures ready. If you are booking a taxi, for example, then you should make sure that it is a wheelchair taxi that is capable of transporting both the passenger and their equipment. You should also let the airport know if you will require any on flight assistance. If you usually are accompanied by an assistance dog, then the dog can travel with you as long as it has been trained according to an accredited course.
Assistance in the Airport
While in the airport itself, if you have limited mobility then there are a range of mobility which are available for use. You should inform a member of staff before you arrive if you will require mobility assistance so they can make the necessary arrangements. Glasgow Airport mobility aids include wheelchairs and mobility scooters. Glasgow Airport assistance procedures include communications services for those who are hard of hearing such as sign language translation.
Disabled facilities
Glasgow Airport features a number of facilities aimed at making life as easy as possible for disabled visitors. There is a disabled elevator allowing easy access to every floor of each terminal and of course there are disabled toilets throughout each terminal.  If you need any help while at the airport, you can call 0141 842 7700.
12. Medical Help at Glasgow airport
Like most other major airports, Glasgow Airport has extensive on-site medical facilities. The on-site Glasgow travel clinic is an excellent place to get a last minute check up before travelling and they will be able to advise you on any health precautions you should take before travelling to your destination. The NHS also has a useful guide for travellers that is worth reading beforehand. If you require airport medical services while at the airport, you should request help from the check-in area, or the help points found throughout the terminals.
13. Security
Security at Glasgow Airport consists of the usual steps that you would expect in a major airport. You will be required to go through both Glasgow Airport passport control and customs on arrival. Security measures can be an inconvenience and some people even find them intimidating but they are a necessary part of the flying experience in order to ensure safety.
To make the Glasgow Airport security process as painless as possible there are a couple of things that you can do. You should check in advance if you are unsure about whether you can bring particular items in your luggage through customs if you are unsure. You should have any liquids transferred to suitable container. If you forget to put them in a resalable plastic bag then you can pick one up for free at the station before you enter the security area. If you have any questions about arriving in Glasgow, the UK Customs contact number is +44 208 929 0152.
14. Other Facilities Available
Glasgow Airport contains a number of facilities for travellers. There's the Glasgow Airport currency exchange as well as numerous cash points dotted throughout the terminal. The currency exchange makes use of the Moneycorp exchange rate.
For passengers who are going to be spending some time in the terminal, Glasgow Airport luggage storage allows you to take a load off while you and the family take advantage of the other facilities on offer.
The prayer rooms Glasgow Airport offers are located on the first floor of the departures concourse and offer a quiet space for prayer and contemplation.
The whole airport is covered by Glasgow airport Wi-Fi meaning that parents and older children can keep themselves amused while the young ones play. The Wi-Fi services are a prime example of the ways that technological advances have had an impact on the level and type of facilities available at airports.
15. Where to Eat
Restaurants in Glasgow Airport
Glasgow Airport isn't as big as some airports in the UK, but considering its size it boasts an impressive selection of restaurants and food outlets. Glasgow Airport restaurants cater to just about all tastes. There's your usual standard coffee shop options such as Starbucks, but alongside this are some more exotic choices. The James Martin Kitchen, located airside, is the brainchild of renowned TV chef James Martin. The Kitchen serves a range of fine foods for every meal of the day and is open from 4 in the morning until after the last flight has departed for the day.
If you're travelling with kids, they will adore the novelty of an authentic 1950's American dining experience in Frankie and Benny's. This is the perfect option for a family in a rush, the 15 minute menu contains a variety of meal options which take 15 minutes or less to serve.
Restaurants in the Area
As well as the range of dining options within the airport there are also a number of restaurants near Glasgow Airport. These include the acclaimed Thyme Bar, which serves traditional pub food and a range of locally brewed and sourced beers and ales.
16. Things to Do at Glasgow airport
Shopping at Glasgow airport
As with many other major city airports, Glasgow Airport contains numerous retail outlets. Not only are these a great way to kill time during long layovers, but they can also give you a chance to make any last minute purchases and to pick up anything that you might have realised you've forgotten. For example, there is a Boots the chemist located past security. Unfortunately, the store no longer operates an in-store pharmacy but is still able to provide you with the essentials.
Both before and after check-in there are branches of WH Smith's where travellers can pick up books and magazines to keep you entertained during your flight. And, of course, no airport would be complete without a duty free area. Glasgow Airport duty free is a great place to stock up on alcohol to celebrate either your return home from holiday or the beginning of a new adventure.
Travelling with kids
Taking the family on holiday is an absolutely wonderful experience once you actually get there, but getting through the travelling part can be tricky. Especially for young children, the airport environment can be tedious and it's perfectly normal for children to become restless and irritable. Fortunately, Glasgow Airport offers various facilities to keep kids entertained. There is a children's play area located after security check-in on the international pier. The play area is located next to WH Smith's. There are also a number of puzzle tables throughout the terminal or children who prefer quiet solo activities.
17. Why You Should Check the Weather
Extreme weather conditions can cause delays to flights and increase congestion on the roads. It isn't just high winds and heavy rains that can create these problems, when the weather is much hotter than normal, we also see an increase in the number of vehicles on the road and hot weather can also cause delays in the air.
It is always a good idea to check for Glasgow Airport delays on days when the weather is very hot. The BBC website allows you to look a Glasgow weather specifically. If you are heading to the airport to pick someone up, you should check the weather conditions as well as the flight status beforehand.
18. Information Services at Glasgow airport
Glasgow Airport customer service takes much the same form as customer service arrangements in other airports. Throughout the airport's terminals there are help desks which open in the morning and remain in operation until the last flights of the day.
Glasgow Airport information can be found at the help desk on the ground floor of the main terminal building. Should you have any enquiries before arriving at the airport, the Glasgow Airport contact number is +44 844 481 5555.