Gatwick Arrivals: Everything You Need to Know in 18 Points
Gatwick Airport is one of the busiest airports in the whole of Europe and is the second busiest airport (after Heathrow) in the United Kingdom. For first time flyers and those picking up friends or relatives for the first time, you might be curious about the Gatwick arrivals procedure. Fortunately, the airport makes every effort to ensure this process is as simple as possible.
1. How to check your flight details
There are a number of different ways that you can check your flight information. To do so, you will need the flight code for your flight. The code will consist of two or three letters, which denote your carrier, and then a short sequence of numbers to identify the flight. For example, EZY1984 would be Easy Jet (EZY) flight number 1984. Your flight code will be printed on your tickets and will usually be included in the confirmation e-mail you receive after booking.
The most convenient way of checking your flight details is online. On the Gatwick website, you will find Gatwick flight timetable/schedule information, or there are a plethora of other sites you can check because flight information is publicly available, so anyone can make use of Gatwick arrivals information.
On your return, your pilot should tell you when you are expected to arrive at London Gatwick Arrivals. This handy guide contains a number of tips for making your flight more comfortable. It can be tempting to take advantage of the free alcohol often on offer, but you may well regret it when you land.
2. How to check the incoming flight status for Gatwick arrivals
If someone is due to meet you as you get off your flight, they will want to know how to check your flights status and expected arrival time. It was not long ago that checking flight details remotely was all but impossible; now it's as easy as clicking a link or downloading an app.
While in the airport, it is very easy to find flight information, but to avoid travelling and worrying unnecessarily, you can check the status of incoming flights online from your home.
Flight Radar is a service which offers real time information on flights, allowing you to see exactly where they are. They also offer an app called Flightradar24, which turns your smartphone into a Flight Tracker and gives you live updates, allowing you to Check Flight Status in real time. One advantage to using flight radar is that you don't need to know the flight code for the flight you want to track. This is useful if someone is meeting you and misplaces the flight code.
Of course, you can also check the airport's website to see Gatwick arrivals live. Some carriers even send out automatic e-mail alerts to keep people on the ground updated as to where you are and when your flight is due to arrive at Gatwick.
3. How to Check the status of your connecting flight
If you are landing in Gatwick only to catch a connecting flight to another destination, then you will want to be able to quickly and easily tell when your connecting flight is due to leave and how much time you will have to kill in the airport.
Again, Flight Radar is incredibly helpful here, thanks to their Flightradar24 app. Flightradar24 is made possible by an extensive network of more than 10,000 ADS-B receivers, which are constantly receiving information from overhead flights. Using these, the locations of flights can be updated live, making Flightradar24 one of the most reliable and internationally renowned flight tracking services in the world; it is a perfect demonstration of why flight tracking is so important in the modern world.
When your plan touches down in Gatwick, the app offers the quickest and easiest way of establishing how much time you have before boarding your connecting flight. Gatwick live updates can be seen throughout the terminal, but the app can be checked from anywhere. There are a variety of retail and food outlets in Gatwick.
4. How to Get to Gatwick

Gatwick Express
The Gatwick Express is a train service designed to ferry to ferry passengers to and from London Victoria. The Gatwick Express journey time is 30 minutes, sometimes slightly longer during peak hours, and they run up to four times an hour. You can view the Gatwick express timetable here.
Other direct public transport services
There are a number of ways you can reach Gatwick Airport using public transport. In addition to the Gatwick Express, several train operators including Thameslink and Southern Rail run services to the airport. There are services from Brighton, Bedford, Three Bridges, and Bognor Regis. You can check National Rail Arrivals for more information. There are also bus and coach services that run to Gatwick, the most popular of these is the metrobus Crawley. There are several different points where passengers can board the bus along different routes. The services run every 30 minutes and you can pay your fare online or through the app prior to boarding.
Driving to & from Heathrow
Gatwick Airport is located roughly 28 miles south of London and is linked to the M23 at junction 9 as well as the A23 London to Brighton road. The airport is also only 10 minutes from the M25, which makes connecting with the rest of the UK's road network easy.
Gatwick also works with different partners to provide car hire services for a reasonable price and you can make a booking through their website. There are 24-hour petrol pumps at the terminals should you need to refuel. If someone is meeting you at the airport with a car, the Gatwick postcode is RH6 0NP (South terminal) and RH6 0PJ (North Terminal). You can find information about nearby roadworks here.
Cycle routes to Gatwick airport
Gatwick has much better cycle access than most London airports. National Cycle Route 21 runs past the South terminal right up to the Northern terminal. The route goes from Greenwich, through Horley and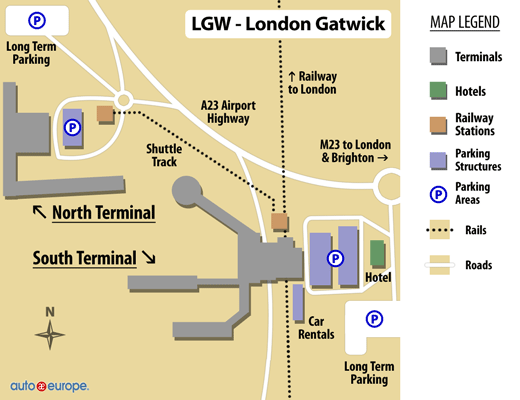 Crawley, then on to Eastbourne and finally Pevensey.
5. Finding Terminals at Gatwick
There are two different Gatwick Airport terminals, known as the North and the South terminal. Both are shown on the Gatwick Airport map to the right. Of the two different terminals, the North Terminal is home to the largest passenger air bridge in the world, which connects the main terminal building to a newly constructed pier. This terminal houses all the flights for EasyJet, as well as Aeroflot, Air Canada, Virgin Atlantic, and others. Check in for the North Terminal is located on level 2. The South Terminal meanwhile handles most of Gatwick's traffic. Like the North Terminal, the check in is located on the second floor.
6. How to Travel Between Terminals at Gatwick
Inter-terminal monorail
The two terminals are connected by the Gatwick Airport shuttle, which runs every few minutes, 24 hours a day. The inter-terminal shuttle as it is known takes just two minutes to complete its journey. The shuttle station is located next to the train station. From the North Terminal, just follow the signs towards the South Terminal. Similarly, if you are at the South Terminal or train stat
ion, then following the signs towards the North Terminal will lead you to the station. If you are travelling with someone who has a disability, then the airport offers mobility aids and other special considerations. The Gatwick inter terminal shuttle cost is free.
7. Taxi Services to Gatwick
Taxis to Gatwick
There are different taxi services that operate throughout London, some of these offer special discounts to passengers who are travelling to one of the city's airports. Examples of such companies include Airport Pickups London, myDriver Airport Transfers, and Blackberry Cars. There are different types of vehicle on offer depending on the needs of each group. These range from smaller saloon cars for up to three passengers, right up to minibuses that can seat a dozen or more people. There are also more luxurious car options for those who want to travel in style. Minicab companies such as Addison Lee operate throughout the city and within the airport itself there are several Gatwick minicab companies. The airport keeps a list of approved cab companies on their website.
Taxis Instead of Transfer
Once at the airport, visitors can take advantage of the taxi services which operate within the airport. You can use these taxis between terminals as well as nearby hotels. The range of vehicles on offer when using an internal Gatwick taxi service are just as diverse as those operating outside the airport and there are vehicles suitable for individuals and small groups. For large groups of more tha
n 16 people you may need to hire multiple vehicles.
To get a Gatwick taxi quote, you should contact the airport who can advise you on the best option for your individual circumstances.
8. Hotel Transfers at Gatwick
Hoppa Bus
The Hoppa bus is an initiative that began at Heathrow airport. The company offers travel around the capital generally, as well as between Heathrow and Gatwick specifically. This is a very useful service if you need to transfer from Gatwick to Heathrow.
The Hoppa bus also stops off at various hotels around Heathrow. These include the Holiday Inn at Terminal 5, a Premier Inn at Terminal 4, as well as a number of luxury hotels. Recently the service expanded to include Gatwick hotels through the H4, G1, G3, G5, and G7 buses.
Coach Transfers
The National Express Gatwick service is one of the most popular ways for visitors to transfer. However, it is just one of the many services that the airport offers. Bus stops are located on the forecourt in front of the South Terminal and some also operate from the North Terminal.
For large groups and school trips, there are coach hire services, most prominently Megabus and easyBus. There i
s also the Gatwick Airport Hotel Transfer Service which goes between both terminals, as well as hotels, including Premier Inn, Travelodge, Ibis, and Holiday Inn.
Uber
Uber has taken the world of public transport by storm, loved by some and loathed by others, but there is no denying however that Uber make things convenient. The Uber app is incredibly simple to use. You merely let it know that you need a ride and it will alert the nearest available driver. It costs less than a traditional taxi. To encourage the use of Uber, Gatwick has a dedicated Uber Gatwick waiting area.
9. Where to Stay at Gatwick
Gatwick hotels
There are a range of hotels on offer at Gatwick, these range from the pleasant but simple affairs such as the Premier Inn Gatwick north, which costs £68 per night, to more upmarket places such as the Sofitel London Gatwick, which will set guests back almost double that figure at £122 per night.
The Gatwick hotels park and fly scheme allows you to save a considerable amount of money in parking fees if you choose to leave your vehicle at the airport while you travel. There are several hotels which offer this service, including the Premier Inn located by the North terminal, and the Hotel Hilton close to the South Terminal.
Hotels in London
For those who would prefer not to stay in a hotel at the airport itself, there are many other hotels by Gatwick Airport. The Cumberland House Gatwick B&B is a good choice for those who want something quieter; it is £64 a night to stay in this three-star hotel. Alternatively, there is another three-star hotel, the Gainsborough Lodge, which is only a few minutes away and costs £40 per night. Both hotels are within walking distance of the airport.
Apartments
There are various studio apartments in and around the airport, some of which can be rented for extended periods. These are an excellent choice for those on business trips who will be staying longer and want something homier than a hotel. Weekend apartments in London have long been popular among those with regular business in the city, but they can be quite pricey. A more reasonably priced option is to use Airbnb London, as it is one of the app's biggest markets.
10. Gatwick arrivals: Where to Park?
General parking
Gatwick Airport offers both long and short stay parking. The park and fly scheme can save visitors money on parking fees, but is not supported by all the hotels.
Short stay parking, which includes Gatwick arrivals parking and short trips up to two days, starts at £3.80 for 30 minutes, rising to £90 for two days. There is a charge of £45 for every additional day after this. However, by using the long stay parking, you can stay for up to four days for £85 and then pay £20 for every day after this.
The airport also offers premium parking for short term stays. The premium parking offers same-level access to both terminals and is the most convenient option. The prices range from £4.90 for 30 minutes to £110 for two days, and £55 each subsequent day thereafter.
Motorcycle Parking
Gatwick offers free motorcycle parking in all of its short stay car parks.
Disabled Parking
At Gatwick, mobility is taken seriously. The airport offers plenty of parking space set aside for disabled blue badge holders. Disabled visitors can park much closer to the terminals. Moreover they can also request assistance from the airport staff once they arrive by arranging a meet and greet beforehand.
Valet parking
Gatwick valet parking is a great option for those who are in a hurry and want to save time. You simply drive up to the valet, hop out your car and then leave them to park it while you check in.
Pickup Areas
There is both a Gatwick North pickup and a Gatwick South pickup. The airport aims to keep things efficient and there is no charge for passengers waiting on the forecourts.
11. Disabled Access at Gatwick
Travelling to and from Gatwick
Gatwick Airport contains facilities designed to make travelling as stress free as possible for disabled passengers. When travelling to the airport, you will find that the majority of public transport providers will have arrangements in place for disabled and special needs passengers. The cab companies that operate throughout the airport all offer the option of a wheelchair taxi.
On flight assistance is also available through all major airlines. The services on offer include assistance in storing and retrieving luggage, helping passengers between their seat and the washroom, and ensuring that passengers can eat their in-flight meal.
If you require an assistance dog, you should make sure to inform the airline ahead of time so that they can make the appropriate arrangements. Airlines are legally entitled to require that you show that your dog has been trained by a recognised organization before allowing it to fly. Unlike regular dogs, assistance dogs are permitted to fly with their owners.
Assistance in the Airport
Gatwick Airport offers numerous Gatwick mobility aids, including wheelchairs, scooters, and canes and walking sticks, as well as other forms of special assistance. If you have a baby with you then you can even request a buggy from airport staff. Airport assistance dogs are available as part of the Gatwick Airport assistance scheme. If you are hard of hearing, you can request an escort who can translate in to sign language for you.
12. Medical help at Gatwick
Should you require medical assistance while at the airport, you can phone +44 1293 507 400 to reach airport medical services (AMS). In addition, there are medical facilities located in both terminals. Staff at the information desk (located by the check-in area) can assist you if necessary.
The Gatwick travel clinic is located on-site. The clinic offers visitors a full consultation and check-up before they travel. If you want to take advantage of the service, then you will need to bring with you all your medical records, as they won't be able to access them from the clinic.
13. Security
As you would expect of a major airport, security is a primary concern for Gatwick, and like all major airports, they work hard to balance their security needs with passenger comfort. The most visible Gatwick security measures are those which are designed to prevent prohibited items form making it on board any flights. You should familiarise yourself with what is and isn't allowed before you travel.
Gatwick also runs a premium security program. For a fee of just £5, you can book a time slot to go through security. This way you ensure yourself that the process is prompt and painless. This is an excellent choice if you are in a rush.
If you are arriving at Gatwick and will be going through customs but are unsure what you are allowed to bring through with you, the UK Customs contact number is +44 843 504 7190. There is also a Gatwick Lost Property station if your luggage goes astray.
14. Other Facilities Available
Inside Gatwick, as with many other large airports, it can almost feel like you are in a shopping centre. In addition to numerous retail and food outlets, there is the currency exchange Gatwick Airport. You can swap your currency at the Moneycorp exchange rate.
If you find yourself with time to kill between flights there is Gatwick Wi-Fi for internet browsing, even a Prayer room for those who need to unwind and relax. You can find information on prayer times London on the Gatwick website. While you do so, you can take advantage of the Gatwick luggage storage, so you don't have to worry about keeping an eye on your bags. There are prayer rooms located in both terminals, which are open 24 hours a day to people from all faiths.
15. Where to Eat
Restaurants in Gatwick
There is no shortage of places to eat in Gatwick Airport, with the options ranging from fast food outlets such as Nando's, to coffee outlets such as Costa, and even a brand of Jamie Oliver's signature diner. These places sit alongside more upmarket offerings such as Caviar House & Prunier.
While you're in the airport why not try something a little more exotic than a sandwich from Pret a Manger (as good as they are!)? Wagamama offers Japanese cuisine at a reasonable price and comes highly recommended. They have branches in both the north and the south terminals.
If Japanese food doesn't appeal to you, there's Jamie's Italian located in the Northern terminal. The restaurant serves up the usual mixture of pizza, pasta, and other Italian dishes. Or, if you want to try some fine dining, the Sofitel Gatwick restaurant menu should satisfy your cravings.
Restaurants in the area
There are a number of Restaurants near Gatwick, for example The Parson's Pig, which is a little under two miles away and offers a mixture of traditional pub food and Indian cuisine, as well as samplings of other international flavours.
16. Things to do at Gatwick
Shopping at Gatwick
There is a great deal to do inside Gatwick owing to the sprawling terminals, packed to the rafters with shops, food, drink, and entertainment. The Gatwick duty free is a great place to score some bargains, and to stock up on booze. There are two duty free areas in each terminal, one located in arrivals, the other past security.
If you're looking for something to read on your flight and when you arrive at your destination, then there are several branches of WHSmith's in both terminals. There is also a Boots in each terminal for when you forgot to pack some vital toiletries and cosmetics.
Travelling with kids
Fortunately for families with a long layover between flights, there are kids' zones located in both terminals. Here children can be left to play while waiting for your flight. There is also a family lounge in the North and South Terminal should you all want to spend some quality time together.
17. Why you should check the weather
There is nothing worse than having an entire day's itinerary ruined because of bad weather. Severe weather conditions can cause flights to be delayed or cancelled but, fortunately, this is a rarity. You should check the weather before you travel, as bad weather is one of the leading causes of Flight Delays. The Gatwick Airport website will update visitors on any delays due to weather. It will also warn visitors if any serious weather is expected which could impact flights. Bad weather can also cause roads to be congested, something you should consider if you are being picked up by someone else.
18. Information Services at Gatwick
There are help desks located in both terminals at the airport. In the South Terminal, they are located in Zone J, and in the North Terminal they are located in Zone D. Gatwick information services are there to help you with any aspect of your travel. if you are ever unsure about anything, these are the places to go.
Should you need to contact Gatwick Airport customer services you can reach them at the Gatwick Airport customer service number. The number is 0844 811 8311. Alternatively, you can reach out to Gatwick Airport customer service through e-mail at [email protected].